The La Higuera IOCG project is a mid-stage copper-gold exploration project located in northern Chile and surrounding the high-grade historic La Higuera mining center (Figure 1). IOCG is the acronym for "iron oxide copper-gold', a style of copper-gold deposit most prominently found in Australia, Brazil and Chile. The largest example is the Olympic Dam deposit in South Australia with a mineral resource of 9.08 Bt at 0.87% Cu, 0.31 g/t Au, 1.5 g/t Ag, 0.28 kg/t U3O8 as of 2010 (Primary Industries and Resources SA fact sheet, 2010).
The La Higuera IOCG project includes two significant mineralized IOCG systems with historic drilling, the Gaby and Chirsposo systems, and additional earlier-stage targets defined from the comprehensive geophysical datasets. The best historical drill intersections from the Gaby system comprise:
285m @ 0.40% copper, 0.08 g/t gold from 100m depth (start of assaying) in hole LH-RC-07, including 52m @ 0.60% copper, 0.12 g/t gold from 190m.
36m @ 0.66% copper, 0.14 g/t gold from 196m depth in hole LH-RC-06
50m @ 0.36% copper, 0.07 g/t gold from 60m in hole LH-RC-11.
And at Chirsposo comprise:
82m @ 0.35% Cu, 19.2% Fe from 64m to EOH in hole CAB0006
58m @ 0.33% Cu, 13.5% Fe from surface in hole CAB0002
54m @ 0.38% Cu, 14.8% Fe and 0.09 g/t Au from 122m in hole CB-01
The historical drilling indicates the mineralization at both the Gaby and Chirsposo prospects is the magnetite-rich IOCG style of mineralization, similar to mineralization at the Candelaria deposit.
Importantly, geophysical (IP and ground magnetic) data from both prospects suggest the currently drilled systems extend from outcropping areas, where they have been drilled, under thin (25m) gravel cover.
A work program is commencing, including confirmatory geophysical gravity surveying and two proposed phases of drilling, with the objective of determining the size of the mineralized system under the gravel cover.
The majority of the project licences are 100%-owned by Tribeca Resources, with the licences over the Gaby target the subject of a 5-year option to purchase a 100% interest. In total, the project comprises 4,047 hectares within 41 mineral exploitation concessions and two exploration concessions.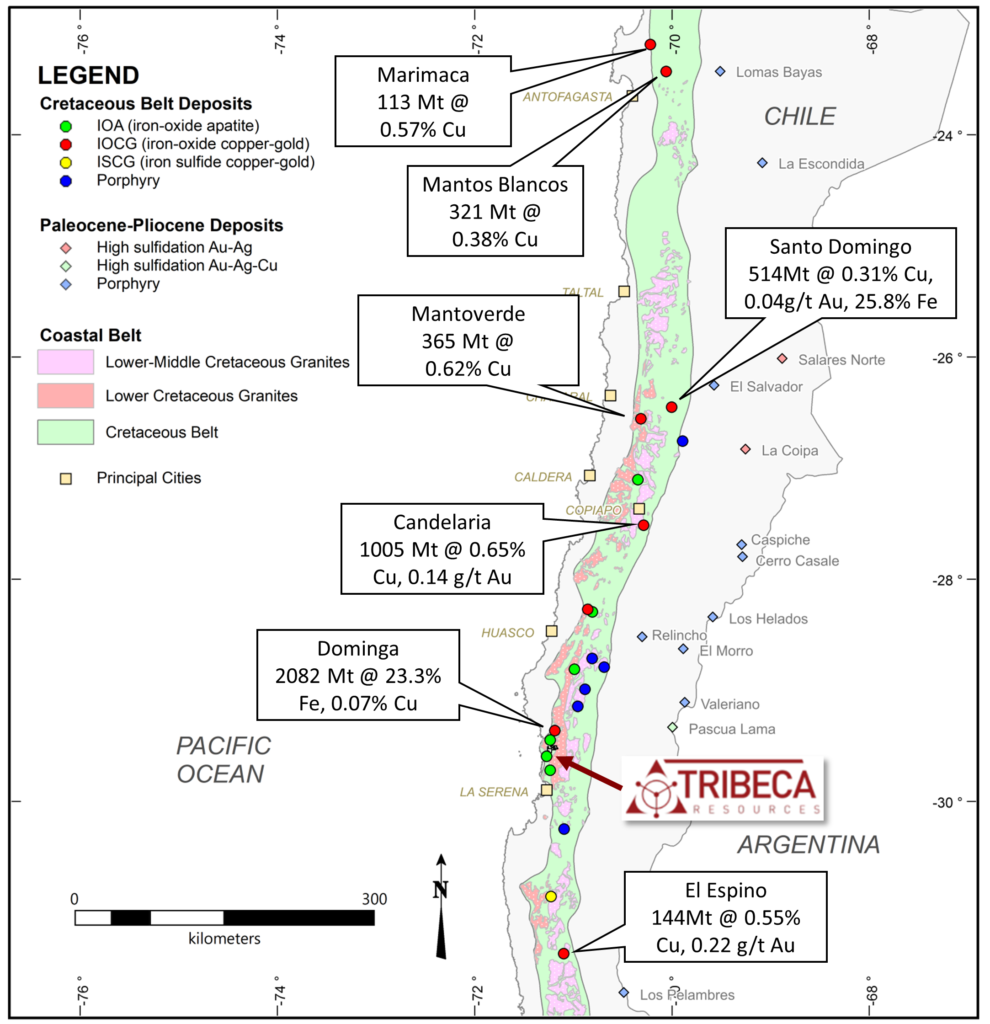 Figure 1. The Chilean Coastal IOCG Belt spans approximately 1,000km within the Cretaceous Belt of northern Chile, and hosts numerous large copper-gold deposits of the IOCG style.
Figure 2. The La Higuera IOCG project surrounds the historic high-grade copper-gold La Higuera mining center.