Don Baucha Property
Summary
The Don Baucha property comprises a single 100-hectare mining licence (mensura) centred over an intense coincident magnetic (7000nT) and IP chargeability (+40 mV/V) anomaly. Sporadic outcropping magnetite ironstones are present at surface, which were the focus of magnetic separation test work to produce a magnetite concentrate by Azul Ventures in 2013.
Geological setting
The property is dominated by the intermediate porphyritic subvolcanic Agua Salada Complex with local microdiorite (Figure 1). Extensive fault breccias are present, interpreted as located within strands of the Romeral Fault (part of the Atacama Fault Zone). The area is intruded by the San Juan Pluton (148 ± 6 Ma – K-Ar whole rock) in the east and by a Jurassic-Cretacous monzodiorite unit (locally porphyritic) in the west. This monzodiorite unit has been dated at between 145 Ma (U-Pb zircon) and 130-124 Ma (K-Ar biotite and amphibole).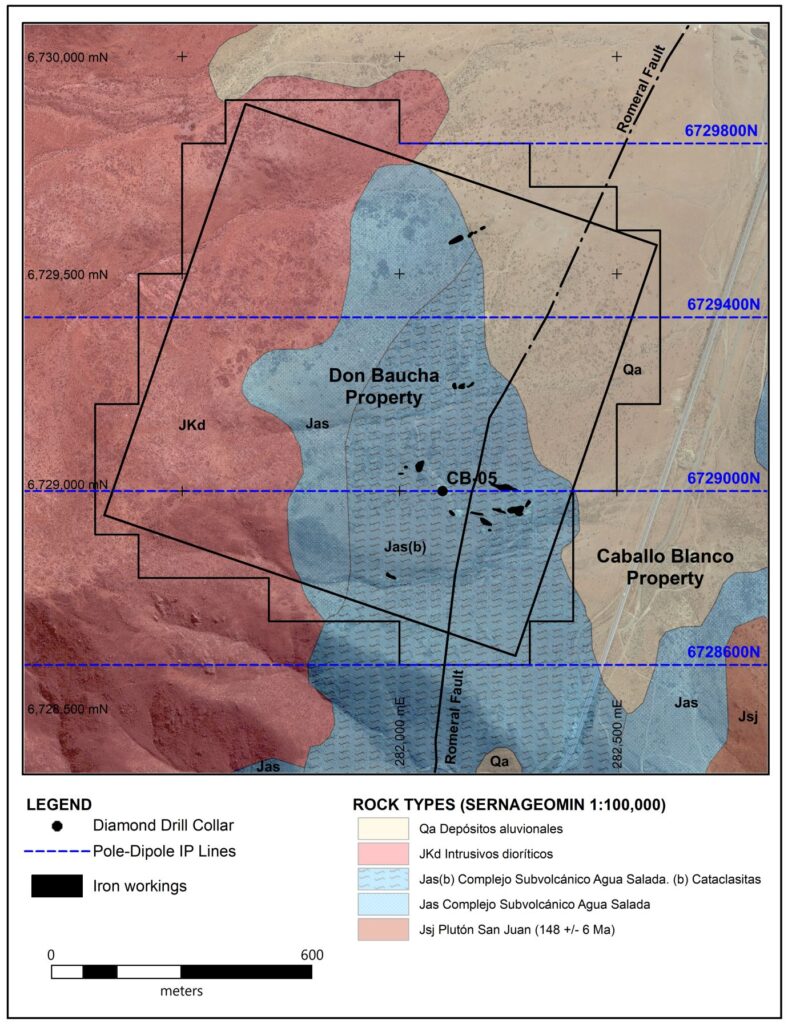 Geophysics
Peregrine completed IP (24 line km) and ground magnetic (120 line km) surveying in 2007. The ground magnetic survey covered an approximate area of 4.0km x 4.0km, and delineated a series of large magnetic anomalies. The IP survey comprised 9 x 400m spaced east-west 100m pole-dipole survey lines, two of which traversed the Don Baucha property. The surveys delineated a large coincident IP-magnetic target in the Don Baucha area (Figure 2), coincident with the magnetic veining and pits evident at surface.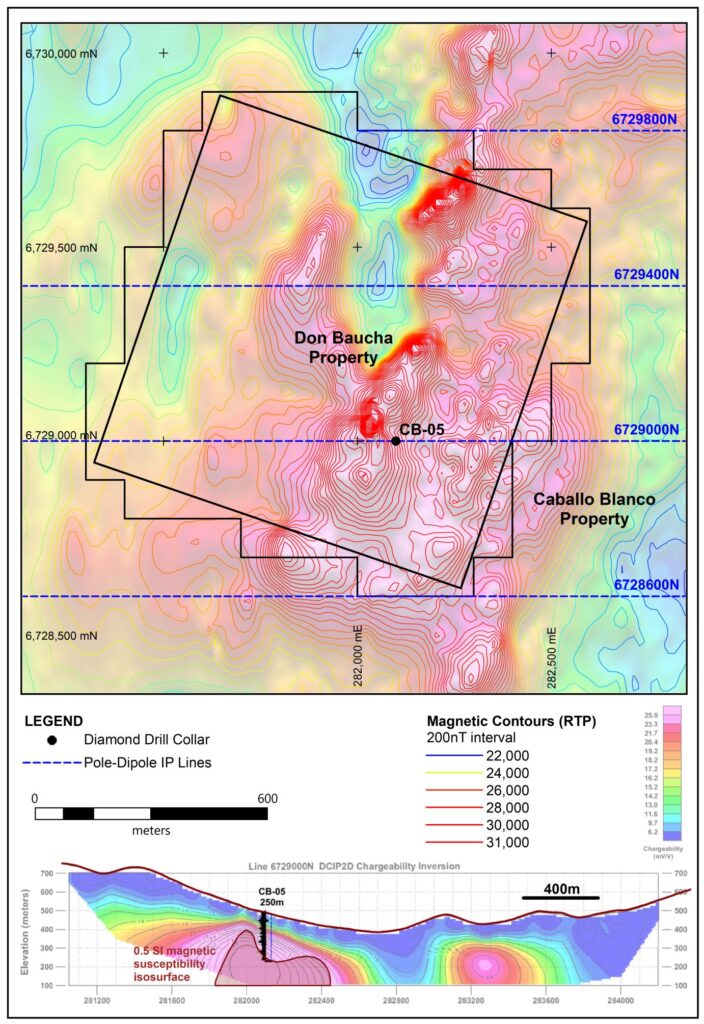 Drilling
A single vertical 250m diamond drill hole (CB-05) was completed by Peregrine Metals Limited in 2008 in the north-western portion of the large (1000m x 1000m) magnetic anomaly. The hole intersected a strongly chlorite-biotite altered porphyritic diorite, with strong veining, stockwork and breccia development with infill of quartz-magnetite-amphibole±chlorite/biotite±pyrite±chalcopyrite. The hole intersected a thin zone of copper-gold mineralisation comprising 8m @ 0.23% Cu, 33.8% Fe and 0.04 g/t Au from 38m, within a broader iron rich interval of 85m @ 17.0% from 3m depth.
Magnetic separation test work
In 2013 Azul Ventures Inc. completed a bulk sampling program to investigate potential for shallow open pit mining of magnetite veins. A 100-tonne bulk sample was collected from two different mine dumps and processed in a nearby crusher/magnetic separator plant. The sample had a head grade of 58% iron and produced a concentrate with a grade of 67% iron (see Azul Ventures Corp. press release of 30 October 2013).