Benja y Blanco Property
Summary
The Benja & Blanco property, comprising 949 hectares of mining licences, surrounds the La Higuera copper-gold mining district that, in the late 1800s and early 1900s, was one of the largest copper producers in Chile. Initially, sulphide copper ore was direct shipped via La Serena-Coquimbo to Swansea in Wales for smelting. Later, up to eleven local smelters are reported to have been in operation at La Higuera, from which only slag heaps remain. In 1903 the district produced 11,950 tonnes of copper metal from ores grading up to 10% copper. Gold veins at grades up to 17 g/t gold were also exploited.
A programme of geological mapping, surface and underground sampling, geophysical surveying and drilling by Azul Ventures in 2011-2012 demonstrated that the La Higuera workings are based on a highly structurally controlled northwest-trending magnetite-dominated IOCG system. The work indicates that the strong IOCG alteration system that hosts the high grade La Higuera mineralisation continues to the northwest onto the Benja y Blanco properties.
Geological Setting
The Benja y Blanco properties cover intermediate Jurassic and Cretaceous intrusive complexes that have been juxtaposed by a significant NNW-trending reverse arcuate fault that emplaces the older Upper Jurassic San Juan Pluton (148 ± 6 Ma) against the younger Lower Cretaceous units (130-122 Ma) to the east. Within the San Juan Pluton a broadly parallel mylonitic to protomylonitic zone increases in width to over 1km in the vicinity of the La Higuera deposit (Figure 1).
In the immediate area hosting the La Higuera deposits the fault changes orientation to become northwest trending and appears to be the focus for the strong hydrothermal alteration with magnetite-amphibole-epidote dominated assemblages. This alteration appears to be related to the high-grade magnetite-pyrite-chalcopyrite mineralisation historically mined at La Higuera. The area is also traversed by a series of ENE-trending quartz-dominated veins with high grade gold mineralisation.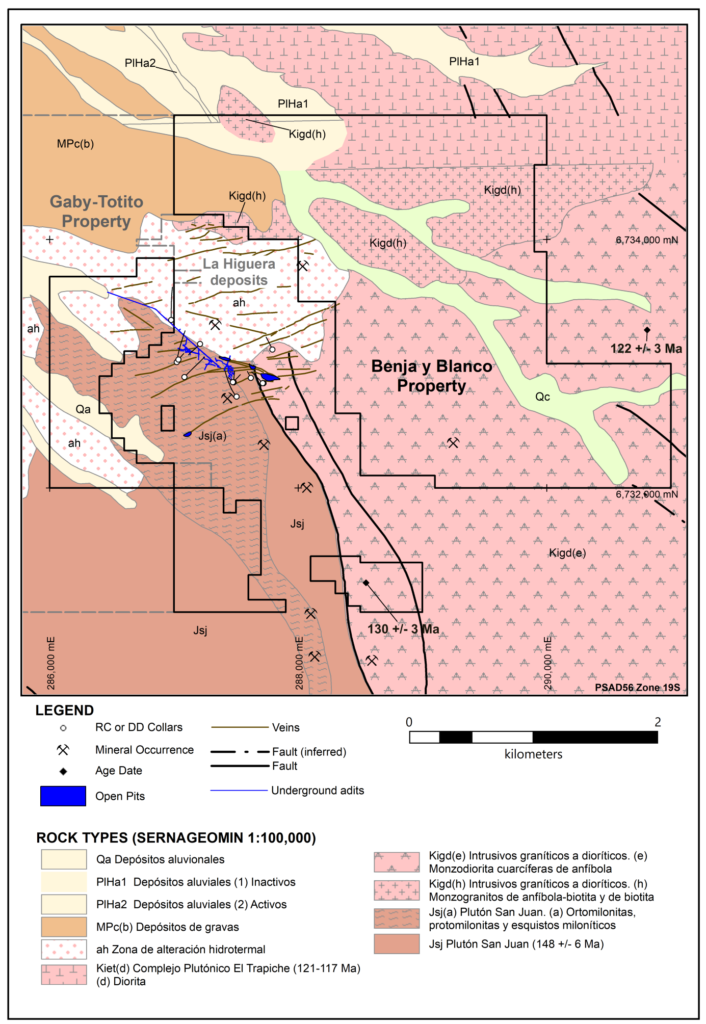 Geophysics – IP and Ground Magnetic Surveying
Azul Ventures completed 100m pole-dipole IP (6 lines) and ground magnetic (3.5km x 3.5 km area) surveying in 2011. The surveying was focused on the historic mining area covered by third party licences but extended onto the Benja y Blanco licences and the adjacent Gaby-Totito licences. The IP surveying indicated the La Higuera deposit is represented by a high intensity coincident chargeability (to 40 mV/V) and magnetic (~4000nT) anomaly.
Drilling
In 2012 Azul Ventures drilled a series of 14 RC and/or diamond holes for 4088m, predominantly targeted at the main La Higuera lodes that had previously been exploited by underground mining. All but one of these holes were targeted under small open pits or into the underground workings located on third party mining leases that are not part of the Benja y Blanco project, but are surrounded by the Benja y Blanco properties. The deepest hole was 485m deep.
The holes intersected a variety of igneous rocks including granodiorite, diorite, vesicular andesite and basaltic andesite. Mylonites and protomylonites are locally present indicating locally high strain. The rocks display a strong magnetite-actinolite-pyrite±chalcopyrite alteration, locally also with combinations of albite, chlorite, apatite, quartz, calcite, epidote, hematite (specularite) and mushketovite (magnetite after hematite). The holes encountered sporadic copper (plus iron) mineralisation including (Azul Ventures press release dated 24 June 2012):
11 m of 2.08% Cu and 14.9% Fe in hole LHRC-06
54 m of 0.35% Cu and 16.0% Fe in hole LHRC-07
The one hole that was drilled on the Benja y Blanco properties (LHDD-10) intersected a biotite-hornblende granodiorite with fine tonalitic bands. Alteration comprised combinations of albite, amphibole, magnetite, epidote, chlorite and pyrite, locally with chalcopyrite. The hole yielded two sub-economic copper intersections as follows:
3m @ 0.66% Cu, 15.7% Fe from 112m (including 1m @ 1.16% Cu)
14m @ 0.46% Cu from 142m (including 2m @ 1.4% Cu)
The host rock in this drill hole is described as a biotite-hornblende granodiorite with fine tonalitic bands. Alteration comprises combinations of albite, amphibole, magnetite, epidote, chlorite and pyrite, locally with chalcopyrite.